What Separates an Endodontist From an Oral Surgeon?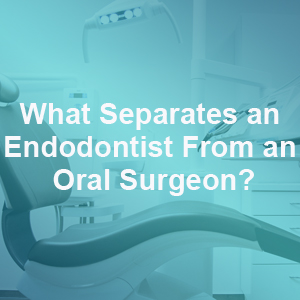 Every person has to go through tooth troubles once in a while. Whether it is a broken tooth or excruciating dental pain, the patient has to visit a dentist. Since dentistry is a highly specialized field, sometimes patients are confused if they should visit an oral surgeon or an endodontist for their problem. In our previous blog, we have explained about consulting an oral surgeon to affix dental implants in San Bernardino. Let us have a look at how an endodontist and an oral surgeon can help patients suffering from diverse dental issues.
The Role of Endodontist While Performing Root Canal Treatment in San Bernardino:
In simple words, an endodontist specializes in finding the root cause of several dental issues and complications that may occur due to dental injuries. It is pertinent to note that many dental issues occur from the root tooth. Rooth tooth is also referred to as tooth pulp. It is recommended to consult the best dentist in San Bernardino to resolve such issues. The specialist deals with injuries and treatment of tooth pulp. They prescribe endodontic therapy and root canal treatments that bring quick relief from pains, aches, and discomfort.
The Role of Oral Surgeon in San Bernardino:
The specialization of an oral surgeon in San Bernardino goes beyond tooth pulp and injuries. This surgeon is also referred to as a maxillofacial surgeon who specializes in multiple procedures dealing with jaw, mouth, and sometimes the whole face. Those individuals who have undergone injuries or have faced accidents might need reconstructive surgeries. Here, an oral surgeon plays a vital role in treating the problem.
Whether to Take Counsel From an Endodontist or an Oral Surgeon in San Bernardino?
The major challenge in front of patients is whether to visit an endodontist for root canal treatment in San Bernardino or an oral surgeon for the treatment of injuries. The first way to find out which specialist to visit is to ask your general dentist. The other way is to know what ailment you are facing and which specialist is suitable for the treatment.
If the problem is related to tooth root or pulp, it is recommended to visit an endodontist who will carry out the dental work. The patient may have to go for endodontic therapies if the issue is complicated.
If the problem is not related to the tooth root and is beyond the scope of an endodontist, visit an oral surgeon. The oral surgeon also provides reconstructive surgery, removes impacted teeth, treats facial injuries, does jaw alignment, corrects fractured cheekbones, and more.
Conclusion:
Thus, depending on the dental issue faced you must choose between an endodontist and an oral surgeon. Schedule an appointment with Dr. Myron Massey at Dental Practice of San Bernardino. You can consult the clinic if you have any queries regarding family dental services or sleep apnea in San Bernardino. Browse through our website of Dental Practice of San Bernardino to discover more information about our services. Call us at 909-888-1301 to have a conversation right away.